Home Ownership
NHS can help you with Home Ownership
NHS has earned designations as a NeighborWorks® HomeOwnership Center and a HUD-Approved Housing Counseling Agency.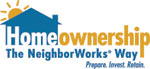 HomeOwnership Centers are resources for prospective homebuyers and existing homeowners. Our innovative homeownership programs provide, in one physical location, all the services and training that you need to shop for, purchase, rehabilitate, insure, maintain and manage a home. Our services are available to you regardless of your income.

HUD sponsors housing counseling agencies like NHS throughout the country that have special competence and knowledge in counseling low- and moderate-income families.

NHS has adopted the National Industry Standards for Homeownership Education and Counseling. This affiliation holds our organization to a high standard of excellence, ensuring you are provided the most consistent and critical information, advice and guidance.
We have highly trained housing advisers who work one-on-one with aspiring homeowners to help them determine if they are ready for homeownership, what homes they can afford, and which appropriate mortgage loans are right for them. Each counselor signed a Code of Conduct and Ethics and must maintain certification through continuing education.
Be sure to read more about NHS's Educational Workshops. You can feel secure knowing that you will receive the best possible information from certified homeownership advisors who are there to help you make sound financial decisions, leading to long-term, successful homeownership.